In preparing for my upcoming Oscars® viewing party at the end of this month, I thought it would be a good idea to get some of the fundamental and easier things out of the way: deciding on how to set up the rooms, how to decorate them, and what activities we will have (after all, someone's acceptance speech is bound to run too long and I wouldn't want everyone to get bored…)
The Room Setup
The dining room in our house isn't very big at all, but the kitchen and living room areas are relatively open with a short wall separating the two rooms. For past gatherings with friends and family, I often set up snacks and beverages in the dining room after moving the chairs away from the table to everyone has space to walk around the table. Everyone can grab some food and mingle, sitting or standing wherever they would like to in the kitchen, dining room, or living room areas. So, nothing special or out of the ordinary to do here, aside from moving some chairs around.
Fortunately, there is a guest bathroom downstairs that is easy for people to access. I'll store additional drinks and things in the garage, but I will try to limit people going outside so they don't scare the cat (long story short, one of the stray cats that we were feeding was sick, so I took him to the vet and he is now recuperating in our garage "hospital".)
The Decorations
Since this is an adult party and I would rather have more money to spend on the food, I am going to limit the decorations, but it also depends on how many people end up coming. I can definitely count on having at least 6 people, and I think about 8-10 will make it, so I certainly want to have a little something to make it look like a party.
The dining room has a very high and a partially vaulted/angled ceiling. Needless to say, even with a ladder, it is not worth hanging much of anything from the highest part of the ceiling because it will only get lost or be difficult to get down. I think I could manage hanging a few things above the table, though.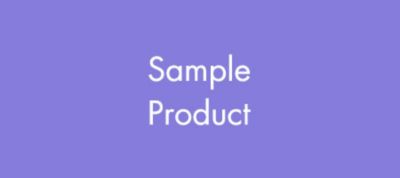 I liked some of the ideas that Party City suggested for a Hollywood-themed party, specifically the gold, black, and silver colors, so I took a trip to the store the other day to see what they had. I love these fluffy pom-pom things, so I got them as well as some hanging lanterns and fans. I might get a few balloons on the day of, too, to keep it simple, but still festive.
I also picked up some black and gold napkins, plates, and other tableware. I didn't get cups yet, since I believe I might get some in the party pack that House Party and Marriott are sending me in a few weeks. Also, I am not even sure what kind of drink I want to serve yet!
The Activities
The popcorn bar was another great idea from the Party City site that I might try to incorporate; this counts as part-food, part-decor, and part-activity. What is an Oscars-viewing party without popcorn, right?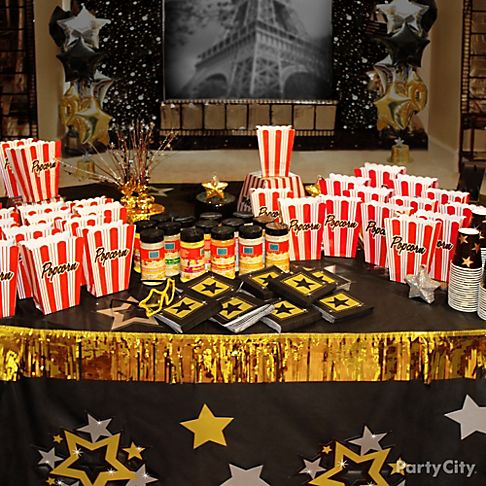 Prior to seeing this, I thought about buying a cheap popcorn maker machine, which I found on the Wal-Mart and Amazon websites for less than $50, but then I considered how and where I might store it later on (i.e., clutter, unless I am going to start having movie parties on a regular basis) and scratched the idea. Renting a machine could be another alternative, and I do have a free corner where I could put it in the dining room, but I think I will probably scratch that idea, as well, in favor of the popcorn bar, which seems about the easiest thing to pull off.
Other simple activities that I had in mind include:
Drink Labels — part practical, part fun. Choose a sticker, stick it on your cup, and always remember which drink is yours. In this case, I bought stickers with words on them that might be fitting to, say, describe Bradley Cooper (think "dreamy," "sexy," etc.) We can vote on who has the best sticker, LOL.
Voting Ballots — guests can fill out the form and choose which movies, actors, etc. they think are going to win big. As we watch the awards, we will see who got the most right! I think these might be included in my party pack from House Party and Marriott, too, so there should be no work here to put this together.
How Many Movies? — a simple check-off game to see who are the movie buffs in the room. Points to the person who has seen the most Oscars-nominated movies from this year and years past. I'll find a list of movies online and put together something quick to print out.
Movie Trivia — Trivial Pursuit might be a good one for this, but I also found a few others on Amazon that sound fun: Geek Out! Pop Culture Party, Cinelinx: A Card Game for People Who Love Movies, and Pass The Popcorn.
Party Games — there is always Cards Against Humanity, Scattergories, and Apples to Apples to fall back on, all of which are fun to play with a large group of people!
Disclaimer: I am not being paid to write this post; however, I was chosen to participate in HouseParty.com's Oscars® Viewing Party, sponsored by Marriott Rewards®. All opinions are 100% factual and my own, and not those of House Party, the Oscars®, or Marriott Rewards®. For more information about sponsored content and advertising on Fuchsia-Revolver.org, please see the site-wide Disclosure Policy.