This paper, Facebook: A Place for Friends and Businesses, was written by me over the course of the Fall 2010 semester at Rider University for MKT 495, an independent research marketing class that I was able to take after completing my internship during the summer. Requirements to receive credit were simple: find an internship, complete 100 hours of work at the internship, have the employer submit a performance evaluation, and write an essay about a relevant topic that somehow relates to the internship experience. I'm happy to say I did well on all of those things and received 3 credits and an A in the class.
For ease of reading on a compute screen, the paper has been broken up into four sections. You can jump to the sections by clicking on the section titles below under "Contents".
Thank you for taking the time to read my writing. If you have any questions, please contact me either by email or by posting a comment on the most recent post on my weblog.
---
Facebook: A Place for Friends and Businesses
By Anna Parks
Contents

Overview: This essay explores how Facebook has expanded to be used by not just individuals looking to interact with friends, but businesses who are looking to market and advertise their brand and products online.
When Facebook was founded on February 4, 2004 at Harvard University by Mark Zuckerberg and co-founders Dustin Moskovitz, Chris Hughes, and Eduardo Saverin, it was intended to be used as a tool to connect students at Harvard University. As the site expanded to include not just colleges and universities, but many other networks of people, more and more were able to sign up to use the site and Facebook turned into a virtual gathering place "for friends" ("Company Timeline"). Businesses later recognized that Facebook was an important place to be seen and a good resource for finding markets of people to sell their products and services to. A ComScore, Inc. study revealed that consumers were swayed by online reviews of products when purchasing holiday gifts in 2009, and Facebook and Twitter influenced approximately 28 percent of the surveyed consumers U.S. holiday gift buying (Inyoung). This paper will discuss what social networks are, the benefits to using Facebook for marketing and advertising, and examples of businesses that are successfully using Facebook to supplement their marketing and advertising efforts. Facebook will be the main focus since, to date, it is the largest and most successful social networking site on the internet.
What are Social Networks?
To provide some background, online social networks can be loosely defined as virtual gathering places where people can connect and communicate with one another. Facebook, Myspace, LinkedIn and other social networks we know of today are improvements on types of internet communities that were seen as early the mid-1990s. Forums and chat rooms were some of the first internet gathering places where users could establish online identities and communicate with others from around the world. Websites like Classmates.com, SixDegrees.com, and Friendster came on the internet around 1995 and introduced the idea of user profile pages and connections with other users (later known on Facebook as adding other users as "friends", or "friending" people.) (Shih 17) The social network sites we are familiar with today combine several of these older ideas (forums, chat, user profile pages, online journals/blogs, etc.) with new Web 2.01 technology to create community-based, highly interactive websites which thrive on user-generated content.
Facebook was able to set its self apart from other social networks by having a "trusted identity combined with clearly defined networks, exclusiveness, and providing continual engagement" with its users. (Shih 34) By June 2004, Facebook expanded to several Ivy League campuses in the Northeastern United States and moved its headquarters to Palo Alto, California. Facebook reached the one million user mark at the end of 2004, having by that time added groups and "The Wall", a virtual bulletin board where messages and other media can be posted to a user's profile. Two notable features, "Facebook Ads" added in November 2007 and the "Like" feature added in February 2009, have become tools for businesses to use to encourage feedback from their customers and to market their products and services online ("Company Timeline"). There are now over 500 million users on the website, half of which log on to the website at least once a day and spend at least a half hour on the site at a time ("Statistics").
Marketing & Advertising with Facebook
With millions of users to interact with, Facebook is an ideal resource for marketers to use to find out more about their customers. Discussions can easily be started on Facebook to generate user feedback and people can easily search for and join these discussions, whether they are sitting on their computers at home or are using their cell phones on-the-go. It is easy to pass the word on to friends, too: A click of a button can send a "Page Recommendation" or personal message to one or several friends at once, and people can see what their friends "like" just by looking at their interests on their profile page. Contests and social media seem to go hand and hand, since contests are fun promotions to help to engage fans and followers, making them feel like they are cared about and are directly interacting with the company. Social media also makes it fast and easy to offer discounts and special deals. Consumers click a button to "like" a page and they are able to get news and offers from that company.
Facebook has also become a great advertising outlet for businesses because of the high visibility and customization of ads, which have the potential to be seen by millions of people per day. Advertisements are displayed based on a person's interests and demographics and they are usually very well targeted and accurate, provided that the person has provided enough information on their page. Illustration 1 is a screen shot of what kind of advertisements I saw when I logged into my Facebook account recently. A few of the ads were for crocheting resources and holiday sales, which make sense and are a good fit since I have crocheting and shopping listed as two of my interests and talk about these things on Facebook every so often. Advertising on social media websites like Facebook can do wonders for generating sales and driving traffic to a business' website. To encourage small businesses and individuals to use Facebook Ads for selling their products and services, Facebook allows for a price limit per click and a daily maximum spending amount; those operating on a smaller advertising budget can also benefit by using Facebook ads, without feeling obligated to spend hundreds per day.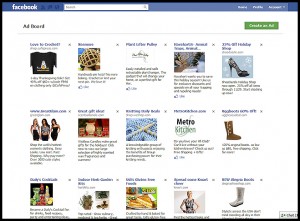 Illustration 1: A click-through from my profile to see more ads brings me to this page, where ads are rotated and are displayed based on my indicated interests, or things I might have mentioned on my profile at any point in time (i.e. crocheting, shopping, Ugg Boots). Click for larger image.
Even though it is free for both individuals and businesses to register for and use Facebook, it still takes planning, time, and money for a business to incorporate Facebook into its marketing and advertising strategies. Bill Corbett Jr., a public relations and social media marketing consultant with Corbett Public Relations, Inc. in Floral Park, N.Y., suggests that a business needs "a clear understanding of what they want their image to be online and in the real world" along with a budget of time and resources when using social media. Time and effort, along with a balance in the amount of information posted, are essential factors to keeping social media campaigns fresh and interesting. A business has to make sure to update enough so that its information is not stale, but be careful to not update too much so that people are overwhelmed and annoyed at the frequency of posts. Any promotional updates should be mixed with information that "clients, friends, and connections might find useful", and a ratio of one promotional post for every six posts is a good balance to keep in mind (Buttell).
Examples of Businesses Successfully Using Facebook
In a short time, having a Facebook "Fan" page for a business has become as common as having an email mailing list, a direct mail list, a store credit card, or a frequent buyer card program. Businesses are establishing social media marketing strategies because social media makes it easy to find and engage customers, build customer relations, and spread brand and product awareness. Two examples of businesses that are successfully using Facebook to launch promotions and engage their customers are Victoria's Secret (abbreviated as VS) and Chick-Fil-A.
The Victoria's Secret fan page on Facebook is located at facebook.com/victoriassecret and allows consumers to remain up-to-date on the company while using a medium that is convenient for them. On May 18th, 2010, Victoria's Secret offered a free panty coupon exclusively for Facebook fans. The limited edition panty featured a design created with the company's Facebook fans in mind and was offered to commemorate over three million people becoming fans of the VS page on Facebook. Illustration 2 shows an image of the coupon that was provided to users when they clicked on the link from the VS Facebook page. Users could print the coupon and redeem it at a local VS store for a free panty with their purchase 2. Each store was given a certain number of the limited edition underwear and they sold out in a matter of days, with some later showing up on eBay auctions for upwards of $12.50. Since that time, Victoria's Secret has well surpassed the three million fan mark: As of December 5th, 2010, there are 10,424,455 users who are fans of the page ("Victoria's Secret on Facebook.")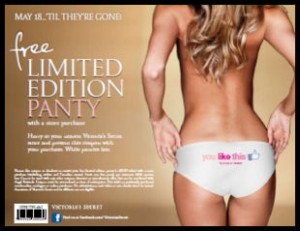 Illustration 2: Users were to print out this coupon and take it to their local VS store to redeem it for a free limited edition panty, designed to commemorate over three million "fans" on the company's Facebook page.
Recently, Victoria's Secret launched an abundance of exclusive content, promotions, and special offers on their Facebook fan page and also created a microsite 3 to generate buzz about their annual Fashion Show, which was aired on CBS on November 30. The VS Fashion Show Countdown Challenge on Facebook was a contest launched during the month leading up to the Fashion Show and was cross-promoted on the VS Fashion Show microsite. New challenges were posted every few days and those who correctly answered the trivia questions or solved the puzzles were entered to win a variety of prizes. Launched on November 5, Challenge #1 asked users to send a SMS text message with the word "NOV30" to 26435 (ANGEL) for the chance to win a US$50 gift card to the store. Challenge #6, launched on November 24, encouraged fans to correctly spot the differences between two pictures for a chance to win a US$1,000 shopping spree at the store. As the weeks went on, the prizes increased in value, with the two largest prizes being valued at $5,000 4 and $20,000 5. Those who did not want to participate in any of the contests could use one of the coupon codes posted on Facebook, good for a limited edition Fashion Show 2010 tank top with the purchase of $60 or more online, or watch exclusive interviews and chat live with the models on the night of the Fashion Show ("Victoria's Secret Fashion Show.")
Chick-fil-A was pleasantly surprised to find that, when they went to create a Facebook "fan" page for their brand in early 2008, "a true brand evangelist" had beat them to it. Brandy Bitzer took it upon herself to create a Facebook fan page for Chick-fil-A back in November 2007 and 25,000 fans were already "liking" the page on facebook.com/chickfila. There were over 1,500 photos tagged with the brand's name and over 500 Facebook users had mentioned the brand name in profile status updates. Instead of getting Bitzer to turn over the ownership of the Facebook fan page to the company, it was decided that she would share administration of the page with Chick-fil-A. She has been invited to their headquarters in Atlanta for conferences and is sometimes involved with Facebook marketing campaigns for the company (Morrissey).
With and without Bitzer's assistance, Chick-fil-A has launched some very successful campaigns which make use of the viral nature of social media and the community aspect of Facebook. The company sponsors an annual "Cow Appreciation Day" event in July where customers are encouraged to dress like cows and upload their pictures to the Chick-fil-A Facebook page to be entered into a photo contest for prizes. Facebook event pages and advertisements were created to promote the 2009 "Cow Appreciation Day" event with successful results: Over 400 pictures were uploaded to the Chik-fil-A Facebook page and more than 18,000 RSVP'd to the "Cow Appreciation Day" event pages. Illustration 3 shows some posts the company made on their official Facebook page with regards to "Cow Appreciation Day" and the special in-store promotions they were offering to celebrate the day. In another campaign, Chick-fil-A gave away 25,000 coupons for chicken sandwiches through Facebook's "sampling ads", which offered users coupons for free product trials when they clicked on advertisements. The company also creates event announcements for the opening of each new Chick-fil-A store, a recommendation the company took from Bitzer (Morrissey).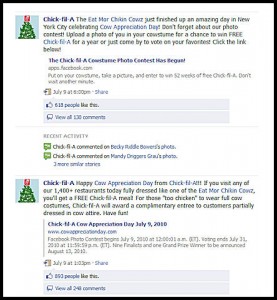 Illustration 3: Some of the messages posted on Chick-fil-A's official Facebook fan page on "Cow Appreciation Day 2010" in July. Free meals were being offered to any customer who came into a Chick-fil-A store dressed like a cow in honor of the event.
All of their fun campaigns and interaction with loyal Facebook fans helped Chick-fil-A to reach the one million fan mark on August 2009. Currently, the company has 3,439,055 Facebook fans on their official Chick-fil-A fan page and has established 83 other unique pages for Chick-fil-A locations across the United States. Chick-fil-A are now using their giant fan base to generate feedback on products and locations. Fans can suggest where they would like to see Chick-fil-A locations and can provide input on new products (Morrissey).
Conclusions and Suggestions for Using Facebook
In five to ten years from now, we might look back and ask ourselves "what were we thinking?" when it comes to Facebook and similar websites like it. Social networking websites as we know them today might be nonexistent, if the novelty of using them finally wears off or if the websites are run into the ground after one too many occurrences of violating user privacy, or they might still exist in harmony with the regulations that have – and will ultimately be – put into place to regulate them. For now, however, Facebook and social networking websites are here. They are viable, modern tools for businesses like Victoria Secret, Chick-fil-A, and many others, large and small, to use to get in contact with their consumers at a very personal level.
Business should keep in mind the reasons why people are using social networking tools – to interact with friends and family members, primarily. Marketing and advertising strategies should be planned accordingly, or otherwise the business might face the consequence of being "unfriended" for spamming. A few good "dos" for marketers to keep in mind when using social media are as follows:
Do keep in mind that Facebook is, first and foremost, "a place for friends." Facebook's creators first established the site with college students in mind, and businesses did not enter the website until sometime later.
Do establish reasonable, manageable guidelines for the amount of posting that will be done. Monitor the frequency of posts coming from your business' Facebook page and keep in mind the ratio of one promotional post for every six posts.
Do have a budget, plan, and goals for all social media campaigns. Take advantage of built-in tools, such as analytics and user feedback, to determine the effectiveness of campaigns.
Do keep the viral nature of Facebook and the internet in mind. Facebook is a great resource to be used for passing content and messages – both good and bad! – among users around the world. It is good to monitor where and how your company is being mentioned online. Negative remarks about your company can spread virally, so a quick response to counter these comments is essential to prevent permanent damage to your company's brand image.
Do keep the laws in mind. It is important to have a policy regarding piracy and copyright infringement, two of the largest concerns on the internet today, and have it clearly posted where users can see it. If your company runs a contest where there is user-generated content created, make it clear that there is content which should and should not be included in submissions and establish that there is no affiliation between your company and what the users create.

1 Social networking websites like Facebook and Myspace are considered to be good examples of Web 2.0 in action. Web 2.0 was a term coined cerca 2005 to describe types of websites, technology, and the overall progression in the way that websites are being created and displayed on the internet. While Web 1.0 websites were mostly static, used hyper-text markup language (HTML) and small graphics, and took up little bandwidth so they can be easily and quickly loaded by slow internet connections, Web 2.0 websites are just the opposite. AJAX, PHP, Javascript, and Flash are all being used today to create dynamic, complex websites and a rich experience for users (Funk).
2 Although the offer has expired, the coupon for the Facebook panty can still be viewed at the following link: www.vsfans.victoriassecret.com/fb/images/secrets/20100517/VSS-8137_Free_Limited_Edition_Panty.pdf. Among the details listed on the bottom of the coupon, the company valued the offer at $10.50 and limited the offer to their stores in the United States only, excluding their outlets.
3 A microsite is a mini website. It is essentially an extension of a bigger website created specifically for a product or event that wants to be featured by the company. In this case, the VS Fashion Show website, located at www.victoriassecret.com/fashionshow, is an extension of the larger VS website, www.victoriassecret.com.
4 An all-inclusive trip to see Katy Perry live in concert during Spring 2011, offered on November 29 during Challenge #9. The prize included airfare, hotel stay, concert tickets, and a meet-and-greet session for one lucky winner.
5 Offered on November 30, the day of the Fashion Show, the one winner of Challenge #10 would have lingerie for life from Victoria's Secret.
Works Cited & Consulted
Buttell, Amy E. "Taming the Social Networking Beast." Practice Management Solutions, May-June 2010, 6-7.
"Company Timeline." Facebook. http://facebook.com/press/info.php?timeline (accessed October 12, 2010).
Funk, Tom. Web 2.0 and Beyond: Understanding the Online Business Models, Trends, and Technologies. Westport: Praeger, 2009.
Inyoung, Hwang. "Facebook, Twitter Influence Holiday Gift Buying." BusinessWeek Online, December 10, 2009. http://businessweek.com/technology/content/dec2009/tc20091210_511199.htm (accessed June 10, 2010).
Morrissey, Brian. "Chick-fil-A's Strategy: Give Your Fans Something to Do." Brandweek, October 3, 2009. http://brandweek.com/bw/content_display/esearch/e3i505f5fdeedc76b42315eeabfe5c3b450 (accessed October 12, 2010).
Morrison, David A. Marketing to the Campus Crowd: Everything You Need to Know to Capture the $200 Billion College
Market. Chicago: Dearborn Trade Publishing, 2004.
Shih, Clara. The Facebook Era: Tapping Online Social Networks to Build Better Products, Reach New Audiences, and Sell More Stuff. Boston: Prentice Hall, 2009.
"Statistics." Facebook. http://www.facebook.com/press/info.php?statistics (accessed October 12, 2010).
Steinman, Melissa Landau, and Hawkins Mikhia. "When Marketing Through Social Media, Legal Risks Can Go Viral." Intellectual Property & Technology Law Journal 22, no. 8 (August 2010): 1-9.
Tuten, Tracy L. Advertising 2.0: Social Media Marketing in a Web 2.0 World. Westport: Praeger, 2008.
Victoria's Secret. Victoria's Secret Fashion Show. http://victoriassecret.com/fashionshow (accessed December 5, 2010).
Victoria's Secret. Victoria's Secret on Facebook. http://facebook.com/victoriassecret (accessed December 5, 2010).
Feedback Questions
Do you use social networks? Why or why not? If so, how many different profiles do you have?
Have you ever interacted with a business on Facebook via their Facebook "Fan" page?
Do you have a smart phone? Is the internet enabled on your phone? If you have the mobile web on your phone, how often do you use it? (Constantly, a few times a day, at least once a day, a few times a week… etc.)
What do you think of the advertisements posted on Facebook? Do you ever click on any of them?
Would your impression of Facebook change if there were more/less advertisements?
Do you follow any businesses on Twitter or Facebook?
Have you ever printed out and used a coupon from a business' Facebook page?
Do you think all businesses can benefit from using Facebook?